News
Former State Secretary in Serbia's Ministry of Interior Dijana Hrkalovic, who is accused of abusing her official position, in a guest appearance in the show Ćirilica (Cyrillic) on Happy Television, aired on Tuesday, presented a series of incorrect pieces of information about BIRN and Vreme journalist Jelena Zoric, and also mentioned her brother.
Untransparent and uncontrolled surveillance enables infringement of citizens' privacy and changes how journalists work with sources, concluded the participants of the panel "Influence of new technologies, artificial intelligence and surveillance technology on freedom of expression and the media", which BIRN organized in cooperation with OSCE.
Stories on air pollution, cronyism in business and manipulation of the COVID death toll received the top prizes at an awards ceremony on November 16.
BIRN Serbia journalist Natalija Jovanovic was announced as this year's winner of the Dejan Anastasijevic Investigative Award in the online media category by the Independent Journalists' Association of Serbia and the US embassy in Belgrade on Friday.
Investigative reports by nine BIRN journalists exposing alleged corruption and official malpractice have been shortlisted for awards by the Independent Association of Journalists in Serbia.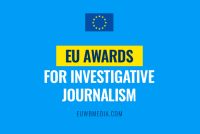 Adam Santovac, Jelena Veljkovic, Aleksandar Djordjevic, Nemanja Rujevic, Sanja Kljajic and Ajdin Kamber were announced on December 29 as the winners of this year's EU Awards for Investigative Journalism, given for stories published in 2019 in Serbia.
Human Rights House in Serbia, marking International Human Rights Day on December 10, awarded BIRN journalist Natalija Jovanovic for her outstanding commitment to the protection, respect and promotion of human rights.
Natalija Jovanovic wins top award for her groundbreaking story on the number of COVID-related deaths in Serbia, which President Vucic initally rubbished, only for it to be confirmed later on.
Confirming the substance of BIRN reports on this issue, a Government Crisis Staff member has admitted that the COVID-19 death toll in June was far higher than was officially reported, blaming a new information system.
As a part of a Strengthening Quality News and Independent Journalism in the Western Balkans and Turkey project, Thomson Media has launched an online course on mobile journalism.
A department of Serbia's finance ministry tasked with tackling money laundering and terrorism financing has asked banks to hand over data about the transactions of dozens of individuals and NGOs known for their work on human rights, transparency and exposing corruption.
Aleksandar Vucic said BIRN report on the real number of COVID-19 victims in Serbia relies on data that are 'not authentic' – and again attacked the outlet over its 2015 investigation into the Tamnava mine clearance.
BIRN Serbia  journalists Jelena Veljkovic and Aleksandar Djordjevic have won this year's Dejan Anastasijevic Investigative Journalism Award in the online media category for a
series of articles
about the father of the Serbian interior minister's involvement in arms trading.
Organised crime and corruption are regular topics in the Serbian media, but BIRN Serbia's
monitoring
, carried out in cooperation with the Centre for Judicial Research (CEPRIS) NGO shows that only a small number of articles reported on the court cases, indicating that the media often do not follow such cases to their judicial conclusion.