News
A department of Serbia's finance ministry tasked with tackling money laundering and terrorism financing has asked banks to hand over data about the transactions of dozens of individuals and NGOs known for their work on human rights, transparency and exposing corruption.
Aleksandar Vucic said BIRN report on the real number of COVID-19 victims in Serbia relies on data that are 'not authentic' – and again attacked the outlet over its 2015 investigation into the Tamnava mine clearance.
BIRN Serbia  journalists Jelena Veljkovic and Aleksandar Djordjevic have won this year's Dejan Anastasijevic Investigative Journalism Award in the online media category for a
series of articles
about the father of the Serbian interior minister's involvement in arms trading.
Organised crime and corruption are regular topics in the Serbian media, but BIRN Serbia's
monitoring
, carried out in cooperation with the Centre for Judicial Research (CEPRIS) NGO shows that only a small number of articles reported on the court cases, indicating that the media often do not follow such cases to their judicial conclusion.
Investigative articles by BIRN journalists Ana Curic, Jelena Veljkovic, and Aleksandar Djordjevic have been shortlisted for the Dejan Anastasijevic Investigative Journalism Award in the online media category.
To mark World Press Freedom Day on Sunday, campaign group Reporters Without Borders Austria awarded the Balkan Investigative Reporting Network with its annual Press Freedom Award – A Signal for Europe.
A database of Bosnian government official vehicles, a project of the Balkans Investigative Reporting Network in Bosnia and Herzegovina, has been shortlisted for the 2020 Sigma Awards for data journalism. The BIRN BiH project was shortlisted in the Open Data category. Ana Curic, a BIRN journalist from Serbia, has been shortlisted in the Young Journalist category for her overall work in 2019.
A journalist from BIRN Serbia has contributed to a major
worldwide investigation
by the International Consortium of Investigative Journalists into the safety of medical devices such as implants.
New documentary produced by award-winning environmental film maker looks at the damaging consequences of over-fishing and illegal fishing in Serbia.
BIRN Serbia is a partner in this year's Prague Media Point conference, an international journalism conference for media professionals, journalists, academics, policy-makers and activists which will be held in the Czech capital from December 5-7.
The three winners of the European Union's investigative journalism prize in Serbia were announced on Tuesday at the EU Info Centre in Belgrade, with judges praising the work for its high quality.
BIRN Serbia held a presentation on Wednesday of its updated database of media ownership in Serbia, highlighting the increase of state influence on the media sector, as well as the increased influence of cable operators.
Applications are now open for submission of investigative articles from the Western Balkans and Turkey for the annual EU Investigative Journalism Award.
Slobodan Georgiev, an editor at BIRN Serbia, and Tatjana Lazarevic, editor-in-chief of the KoSSev website from Mitrovica in Kovoso,
won the Stanislav Marinkovic award
on Tuesday.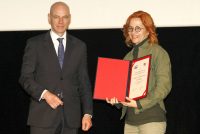 BIRN Serbia journalist Jelena Veljkovic was awarded a prize at a ceremony on Tuesday for the best investigative journalism story in Serbian online media.