The authors of the investigation are Ivan Angelovski and Lawrence Marzouk, and the story is a part of wider research by BIRN and the Organized Crime and Corruption Reporting Project, OCCRP on the arms trade.
"The type of deep dive investigative reporting that Ivan Angelovski and Lawrence Marzouk have done here is difficult and extremely valuable. Drawing attention to how the arms trade is conducted, with specific identification of international actors who often bend if not outright skirt the rules, reminds us that diligence is needed at all levels," said Jeff Abramson, an arms trade expert and senior fellow at the Arms Control Association.
"As the Trump administration moves forward with new arms sales and security assistance, their findings serve as examples of how to examine whether it proceeds responsibly," Abramson added.
Eleven articles were nominated by experts chosen by the Forum on the Arms Trade for being examples of exemplary journalism that uncovers new information and/or expertly explains issues related to the arms trade, security assistance and weapons use that were published in the fourth quarter of 2017.
Angelovski and Marzouk's story traced programmes to arm Syrian rebels, aided by questionable use of end-user certificates and what they called "misleading" legal documents.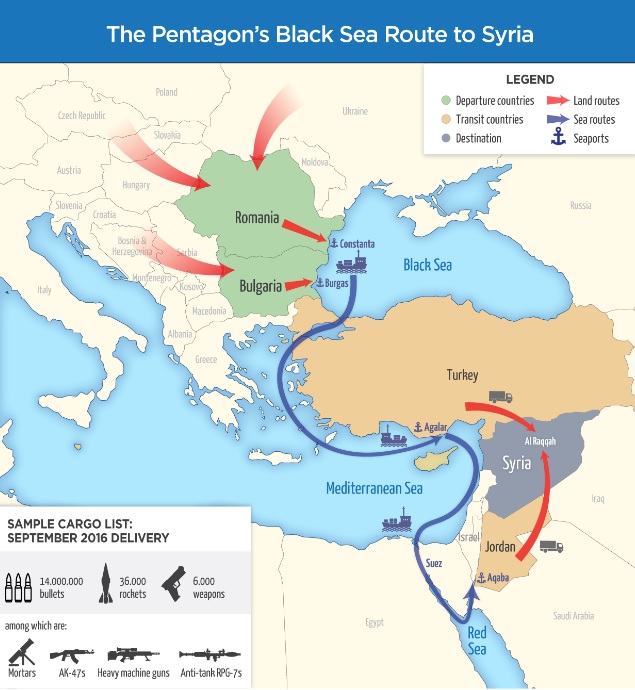 They identified the supply of AK-47s, rocket-propelled grenades and other weapons, often from the Balkans, eastern Europe and former Soviet Union factories and inventories, as being led by the US military's Special Operations Command, SOCOM, as well as the Picatinny Arsenal in New Jersey.
When asked about why they felt it important to report on apparent abuses within the system for conducting arms transfers, Angelovski and Marzouk told the Forum on the Arms Trade: "The rules are supposed to prevent weapons ending up with terrorists, criminals and rogue states. Countries which have signed up to these rules should abide by them. Breaches of these rules presents a real, current risk to the world, but more troubling is the long-term impact if the whole system is undermined."
"There's actually a lot of quality reporting on arms trade, security assistance and weapons use. All the articles that were nominated for exemplary reporting, as well as previous winners and nominees, are great examples of quality reporting," Angelovski and Marzouk added.
"However, there is not enough media awareness of the issue, partly as it requires some specialist knowledge to begin to find interesting stories and understand their importance. Few journalists have this know-how or the time to learn," they said.