News
The people of Belgrade had the opportunity today to, for the first time, within the "Make your own city budget" street event, allocate 58 billion dinars of imaginary money representing the budget of Belgrade in 24 boxes of city secretariats and agencies within the city government.
BIRN is in negotiation with the Faculty of Media and Communications in Belgrade (Serbia) about creating an MA programme in investigative reporting.
BIRN Serbia and Radio Televesion Serbia`s TV magazine programme "Oko" started a production of documentary on life Presevo this week, as part of a project supported by British embassy in Belgrade.
The Serbian Health Ministry was once again allocated the largest share from state coffers – 10.54 per cent – during a street event where citizens voted to show their priorities for public expenditure.
Serbian Ministry of Economy and Regional Development has got the largest amount from the state coffer – 9.2 per cent – during a street event aimed to include citizens in the process of planning the Serbian budget by giving them a chance to show which sectors they consider as priorities in planning public expenditures.
The Skockajte budžet team invite you to join us on Saturday, May 15, on the terrace in front of Terazijska cesma, beginning at 12 mid day and tell us how you think the Government should spend the national budget.
BIRN has organised a high-profile conference and open debate today in Belgrade on the further development of South Serbia and possibilities for the increased integration of ethnic Albanians into Serbian state institutions.
Organised by the Balkan Investigative Reporting Network (BIRN) and Centre for Regionalism, a two-day conference was held on the subject of "Decentralisation of Serbia – situation, requirements and obstacles". The conference was held in the Great Hall of the Novi Sad City Assembly, on February 25 and 26, 2010.
The first national budget forum organized by BIRN Serbia and its partner organisation Pro Concept was held on Tuesday in presence of more than fifty governmental, NGO, business sector representatives, experts and journalists.
On March 27- 29 BIRN Serbia will organize follow up training for journalists from Southern Serbia, as a part of the Minority media training and reporting project, supported by the British Embassy in Serbia.
Belgrade_BIRN Serbia organised a training workshop for ten journalists from local media in Serbia in order to strengthen their capacity to report about the economy. The programme is supported by IREX Serbia and USAID.
Vranje _ BIRN Serbia launched a multi-year project "Building Public Awareness in Multiethnic Areas", supported by the UK Government, in Southern Serbia.
Belgrade _ BIRN Serbia together with the OSCE mission in Serbia organised a three day study visit for journalists from South and Southwest Serbia on reporting war crimes trials.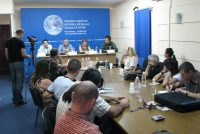 Caglavica – BIRN Serbia organised a round table at Caglavica's Media centre on Friday September 12 addressing the issue of reporting from Kosovo for Serbian media.
After the successful launch and publication in May, June and July, Belgrade Insight, BIRN`s new project and a unique English-language newspaper in Serbia, will be resuming publication in September.