News
Over the next three years, BIRN's transitional justice initiative, which is supported by the EU, will focus on building the capacities of local media and civil society in order to promote reconciliation and intercultural dialogue.
Ahead of the October 15 local elections, BIRN Macedonia published '
Municipalities Uncovered
', a database on the promises and accomplishments of mayors in the 80 Macedonian municipalities plus the capital, Skopje, during their current mandate.
Weakening EU and US influence in the Balkans and increased Russian influence, as well as growing political and economic pressures on journalists, have created a harsher environment for Balkan media, BIRN's biennial meeting heard.
Outstanding individual sought for this exciting post, heading up the work of the Balkan Investigative Reporting Regional Network, BIRN Hub, the unique media development and human rights organisation in the Balkans. BIRN's hard-hitting reporting and analysis has gained an unparalleled reputation in the 12 years since it was founded.
The 2017 regional scheme of the EU awarding investigative journalism in the Western Balkans and Turkey, for the best investigative stories published in 2016, has come to an end.
Aleksandar Dimitrievski, author of BIRN's database for agricultural subsidies, was awarded the first EU prize for investigative journalism for 2016, at a ceremony in Skopje, Macedonia on May 26.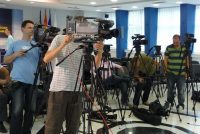 BIRN journalists in Macedonia are being subjected to an incendiary campaign on social networks by supporters of the rightist VMRO DPMNE party.
The Association of Journalists of Macedonia gave its annual investigative reporting award for 2016 to BIRN journalist Vlado Apostolov on February 22 for his series of articles on properties connected to a Macedonian official, Vladimir Zdravev.
BIRN Macedonia has launched a new database called 'Foreign Investments Uncovered' which indicates that the amount of these investments is seven times lower than announced by government.
In a day-long course in Skopje, BIRN's Jeta Xharra shared her insights into ethics, undercover reporting, how to conduct interviews and manage sources and much more.
Directors, board members, partners and donors of the Balkan Investigative Reporting Network, BIRN, met in the Macedonian capital Skopje on June 18-20 for the network's latest regional Board meeting.
BIRN's investigative journalists and teams in Macedonia, Serbia, Albania and Kosovo have been given seven different awards in the course of one month for the quality of their reporting.
A series of articles by Boris Georgievski won the prize for best investigation of 2015, while second prize went to BIRN's database, 'Skopje 2014 uncovered'.
Following the Skopje 2014 Uncovered database, BIRN Macedonia is promoting a second database, on how much the government spends on agricultural subsidies and who gets them.