News
As part of the 'Fact Checking for Accountable Media' project, BIRN Kosovo held a training session on implementing standards and the verification of facts at the Hotel Kristal in Gjilan on October 24.
Nineteen young journalists from the Prizren municipality in Kosovo took part in a special training course on investigative journalism on October 17-18, organised by Internews Kosova and BIRN Kosovo.
BIRN Kosovo held a two-day training course on fact-checking standards with over 40 journalism students at the Sirius Hotel in Pristina on October 21 and 22.
BIRN Kosovo hosted a series of debates ahead of Kosovo's upcoming parliamentary elections, with the candidates for prime minister invited to present their plans for governing to a team of civil society experts.
The first in a series of debates discussing the findings of BIRN Kosovo's audit report monitoring project, which analyses reports from Kosovo's National Audit Office on the progress of auditing processes by Kosovo municipalities, was held on Friday, September 20, in the Municipality of Rahovec.
In the framework of the EU-funded project 'Contribute to strengthening independent, investigative and publicly beneficial journalism and freedom of expression in Kosovo', the Balkan Investigative Reporting Network (BIRN) and the Association of Journalists of Kosovo (AJK) is launching a call for 25 interns who are interested in pursuing a career in journalism.
Call for Proposals for EU-Funded Project to "Contribute to strengthening independent, investigative and publicly beneficial journalism and freedom of expression in Kosovo".
Applications are now open for submission of investigative articles from the Western Balkans and Turkey for the annual EU Investigative Journalism Award.
Following a success during the first phase of the program, BIRN Kosovo in cooperation with AJK, as part of the project funded by the EU, has opened the call for applications for the second phase of the "Kosovo Fellowship for Journalistic Excellence" program for the year 2019.
The programme will begin in June and is based on the Balkan Fellowship for Journalistic Excellence, which has been running since 2007.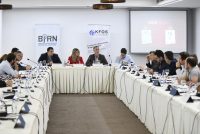 BIRN Kosovo has published findings from its municipal expenses monitoring project entitled 'How Much Does the Boss Eat?'
BIRN Kosovo has published a monitoring report entitled 'Carving up the Pie', produced as a part of the Monitoring of Recruitment Processes of Senior Managing Positions project that BIRN is implementing in cooperation with the British Embassy in Kosovo.
BIRN Kosovo and Democracy Plus, D+, with the support of the British Embassy, organised a roundtable discussion on March 11 to talk about their newly-published Monitoring Report on the Integrity of Kosovo's Tax Administration, TAK.
After BIRN/ARIJ reports lifted the lid on the way millions of fake 'Cleopatra' cigarettes were being smuggled into North Africa from the Balkans, Egypt's parliament has demanded an official probe.
Out of 46 applications by non-governmental and media organisations and individuals, 15 of the submitted proposals have been selected for BIRN's Medium and Small Grant Scheme, funded by the European Union.
BIRN Kosovo's Friday Forums, organised each month since 2015, are events to which public officials and diplomats are invited to have an open, off-the-record conversations with all BIRN's staff based in municipalities across Kosovo.