News
The Initiative for Monitoring the European Integration of BiH presented 'Alternative Analytical Report on the Application of BiH for EU Membership: Political Criteria 2018' at a press conference in front of Bosnia and Herzegovina's Parliamentary Assembly on April 24.
In 2017, BIRN Network operated in an environment of declining media freedoms and unregulated media markets, where authorities and pro-governmental media outlets pressured members of the Network and its journalists; nevertheless, BIRN received national and international prizes as well as different kinds of informal praise.
Devedesete.net, a website developed with historians from Bosnia and Herzegovina, Croatia, Montenegro and Serbia, has named two films made by the Balkan Investigative Reporting Network in Bosnia and Herzegovina (BIRN BiH) as an important source about the history of the 1990s wars in the former Yugoslavia.
The Balkan Investigative Reporting Network Bosnia and Herzegovina (BIRN BiH) held the last of four 'Let's Hear Women' workshops on media communication for women's rights activists on February 15 in Banja Luka.
Defence Ministry is mulling measures against Bosnian army soldier whose activities on social networks were reported by BIRN.
Over the next three years, BIRN's transitional justice initiative, which is supported by the EU, will focus on building the capacities of local media and civil society in order to promote reconciliation and intercultural dialogue.
Reporters on corruption and organised crime in the Balkans are subject to a range of different pressures and challenges – as our comparison of reporting on such cases in Bosnia, Kosovo and Serbia shows.
BIRN will host a regional conference on access to information and media reporting on investigative and judicial proceedings in cases of organised crime and corruption on Thursday in Sarajevo.
Balkan Investigative Reporting Network Bosnia and Herzegovina, BIRN BiH, held a closing press conference for "Rule of Law – disclosed", a project supported over the past two years by the Netherlands' MATRA program.
Balkan Investigative Reporting Network in Bosnia and Herzegovina (BIRN BiH) journalists reported from The Hague, Srebrenica, Prijedor, Banja Luka and Sarajevo on the day of former Bosnian Serb military chief Ratko Mladic's verdict, delivering exclusive reports and reactions.
BIRN Bosnia and Herzegovina and BIRN Serbia journalists, along with colleagues from seven Bosnian newsrooms and students of journalism, attended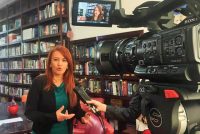 The Balkan Investigative Reporting Network in Bosnia and Herzegovina is one of the few examples of high media integrity in the country, says "Special Report on the Situation and Threats Against the Journalists in Bosnia and Herzegovina" presented on August 28 in sarajevo.
The director of BIRN's Bosnia and Herzegovina office, Mirna Buljugic, took part in the Sarajevo Film Festival's 'True Stories Market' to pitch ideas to film-makers about possible topics for documentary movies on transitional justice topics.
Following a report in an episode of BIRN Bosnia and Herzegovina's 'TV Justice' programme, the Bosnian state prosecution opened an investigation into the rape of a 15-year-old during the war.
Weakening EU and US influence in the Balkans and increased Russian influence, as well as growing political and economic pressures on journalists, have created a harsher environment for Balkan media, BIRN's biennial meeting heard.