The Balkan Investigative Reporting Network in Albania held a roundtable in Tirana on Monday, July 15th, bringing together journalists and non-governmental organizations to discuss labour rights.
BIRN Serbia held a presentation on Wednesday of its updated database of media ownership in Serbia, highlighting the increase of state influence on the media sector, as well as the increased influence of cable operators.
Just after the dramatic change of government in Moldova, BIRN Romania has compiled all its recent reports on the situation into a free, downloadable e-book.
The European Court of Human Rights has asked the Serbian government to clarify what measures it took to ensure the safety of Sofija Todorovic – who has been subject to an online campaign of nationalist intimidation.
Applications are now open for submission of investigative articles from the Western Balkans and Turkey for the annual EU Investigative Journalism Award.
The upcoming Training of Trainers course — which will be held in Sarajevo, Bosnia and Herzegovina, from September 24 to 26 (TBC) — aims to identify, select and train experienced investigative journalists from Bosnia and Herzegovina and Montenegro who are interested in sharing their skills with their younger colleagues.
Award winning journalists and editors will train more than 30 journalists in conducting open source investigations, verifying data and visualising stories at the 2019
BIRN Summer School
, taking place in Montenegro.
In Southern and Eastern Europe, where online disinformation campaigns are increasingly endangering guaranteed individual freedoms and a notable decline in internet safety is ubiquitous, BIRN Hub will partner with
SHARE Foundation
to monitor digital threats and trends in their occurrence, raise awareness about violations of digital freedom and issue policy recommendations.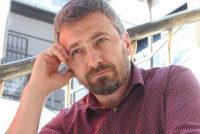 Slobodan Georgiev, an editor at BIRN Serbia, and Tatjana Lazarevic, editor-in-chief of the KoSSev website from Mitrovica in Kovoso,
won the Stanislav Marinkovic award
on Tuesday.
At the launch of its new project on Friday in Budapest, speakers called attention to the rise of populism and anti-democratic values in Europe, and called on journalists to build effective coalitions with other opinion formers.
After a legal challenge by BIRN, an appeals court ordered the declassification of reports and statistics from Albania's much-feared Communist-era secret service, the Sigurimi, which the country's present-day intelligence agency wanted to keep restricted.
A BIRN conference in Budapest will explore the future of democracy at a time of sweeping change.
BIRN's new Reporting Democracy platform seeks to unleash investigative journalism to examine the state of democracy in Central and Eastern Europe and the Balkans.
BIRN journalist Goce Trpkovski was given an award by the Macedonian National Council of the International Council of Museums for raising awareness about the poor condition of cultural heritage in the country.
The Balkan Investigative Reporting Network on Tuesday co-hosted the second annual Media Policy Forum event in Chisinau, organised by Freedom House, the Black Sea Trust for Regional Cooperation and Internews.