News
Some 20 international experts discussed approaches to rebuilding trust in journalism and alternative models of financing media on day two of BIRN's digital media conference in Macedonia.
The first day of a BIRN Macedonia conference on media sustainability heard a number of speakers exchanging ideas and best practices.
BIRN Macedonia conference aims to explore both the opportunities and challenges for the digital media in a hyper-competitive age, marked by the exponential rise of social media.
BIRN journalists from Macedonia, Bosnia and Herzegovina and BIRN Hub attended a training course on mobile video production from August 19 to 21 in Skopje.
Directors, board members, partners and donors of the Balkan Investigative Reporting Network, BIRN, met in the Romanian capital Bucharest on June 2-3 for the network's latest regional meeting of its governing bodies.
Monitoring reports produced by BIRN and articles published in its regional publication
Balkan Insight
continue to be quoted in international reports about media, human rights and politics in the region.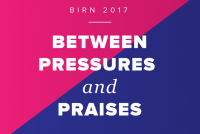 In 2017, BIRN Network operated in an environment of declining media freedoms and unregulated media markets, where authorities and pro-governmental media outlets pressured members of the Network and its journalists; nevertheless, BIRN received national and international prizes as well as different kinds of informal praise.
BIRN Macedonia on Tuesday won second prize in the prestigious Nikola Mladenov award for investigative reporting.
The Media Policy Forum was organised in Chisinau by Freedom House, the Black Sea Trust for Regional Cooperation and Internews, and co-sponsored by USAID, the Friedrich Naumann Foundation and BIRN.
The Balkan Investigative Reporting Regional Network (BIRN Hub) has appointed Marija Ristic to the positon of Regional Network Director, to replace the current director, Gordana Igric.
BIRN Network members took home 11 awards in 2017 for reporting within their respective countries as well as for their regional and international investigations.
Over the next three years, BIRN's transitional justice initiative, which is supported by the EU, will focus on building the capacities of local media and civil society in order to promote reconciliation and intercultural dialogue.
Ahead of the October 15 local elections, BIRN Macedonia published '
Municipalities Uncovered
', a database on the promises and accomplishments of mayors in the 80 Macedonian municipalities plus the capital, Skopje, during their current mandate.
Weakening EU and US influence in the Balkans and increased Russian influence, as well as growing political and economic pressures on journalists, have created a harsher environment for Balkan media, BIRN's biennial meeting heard.
Outstanding individual sought for this exciting post, heading up the work of the Balkan Investigative Reporting Regional Network, BIRN Hub, the unique media development and human rights organisation in the Balkans. BIRN's hard-hitting reporting and analysis has gained an unparalleled reputation in the 12 years since it was founded.