News
On May 23rd, in Prishtina, a third roundtable was held with the title "Perception of NGOs and Media in their role and engagement in the Brussels' dialogue," organized by the NGO New Social Initiative (NSI) from Mitrovica and BIRN Kosovo as part of the project "Increasing capacities and credibility in Albanian and Serbian NGOs and media in Kosovo". The purpose of this UNMIK-funded project is to establish cooperation between Kosovo Albanian and Kosovo Serb civil society and media organizations.
On May 5th, 2017, BIRN Kosovo's television programme Jeta ne Kosove and the anti-corruption platform KALLXO.com were awarded with second place for investigative journalism by the European Union Office in Kosovo.
On April 28th, BIRN Kosovo delightfully ended the month of April by hosting two important diplomatic figures in Kosovo, the current U.S Ambassador to Kosovo, Greg Delawie, and Atifete Jahjaga, who served as the fourth president of Kosovo.
On May 8th, 2017, BIRN and Internews Kosova marked a decade of monitoring Kosovo's judicial system with the launch of the 2016 Court Monitoring Report. This project has been implemented for ten years now, and each year it has provided an overview of the situation in Kosovo's justice system and has offered recommendations on how to increase transparency and accountability at all levels of the system.
On April 24th, BIRN signed a cooperation agreement with the University of Prizren "Ukshin Hoti" in Kosovo on providing students with the opportunity to jumpstart their careers by embarking on professional internships at KALLXO.com, the anti-corruption platform.
April 4th saw the first public lecture on fact checking at the University of Prishtina's Faculty of Philology, Department of Journalism, concerning the "Krypometër'' tool created by Kallxo.com.
On April 5th, in honour of international fact-checking week, the kallxo.com team in cooperation with University of AAB's Department of Mass Communications in Pristina, held a lecture at the university.
On March 10th, 2017, BIRN hosted a group of students, primarily studying political science, who were participating in a workshop organized by "Dialogue Across Borders: Overcoming Borders through European Integration." The project specifically aims to facilitate dialogue between Kosovo and Serbia, while assisting in the normalization of relations between the two.
On February 21st, 2017, a final conference was organized in Prishtina in order to reflect on the work and results of the "Strengthening multi-ethnic dialogue among journalists in Kosovo" project. The final conference focused on promoting the improvement of inter-ethnic relations and conflict resolution by altering the way media organizations in Kosovo operate.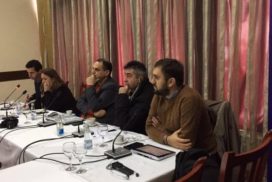 On January 25th, 2017, another debate as part of the "Strengthening multi-ethnic dialogue among journalists in Kosovo" project was organized in the municipality of Gjilan. It gathered 34 journalists and editors from Albanian and Serbian media organizations that operate in Kosovo.
On January 16th, 2017, a debate was organized in North Mitrovica at the EU Information and Cultural Centre, which gathered 30 participants including journalists, editors, and media experts. The participants represented different parts of Kosovo, including the capital Prishtina, other municipalities, Mitrovica North and South, and other Serb-majority municipalities.
At the Faculty of Law in Prishtina, British Ambassador to Kosovo, Ruairi O'Connell discussed the current state of affairs and justice in Kosovo with future lawyers and judges.
The Balkan Investigative Reporting Network, BIRN, is carrying out a three-year investigative journalism programme thanks to support from the Austrian Development Agency, ADA. BIRN Kosovo director Jeta Xharra and Gunther Zimmer, ADA's Kosovo director, signed an agreement in Pristina this week, marking the start of the project.
The Association of Journalists in Kosovo in cooperation with United Nations Development Programme and the Kosovo Anti-Corruption Agency awarded BIRN Kosovo for the Best Television Story on Transparency and Anti-Corruption at the Anti-Corruption Journalism Awards on December 9.
Kosovo parties reprimanded for violating Kosovo law on elections during Drenas runoff mayoral elections.