News
On January 16th, 2017, a debate was organized in North Mitrovica at the EU Information and Cultural Centre, which gathered 30 participants including journalists, editors, and media experts. The participants represented different parts of Kosovo, including the capital Prishtina, other municipalities, Mitrovica North and South, and other Serb-majority municipalities.
At the Faculty of Law in Prishtina, British Ambassador to Kosovo, Ruairi O'Connell discussed the current state of affairs and justice in Kosovo with future lawyers and judges.
The Balkan Investigative Reporting Network, BIRN, is carrying out a three-year investigative journalism programme thanks to support from the Austrian Development Agency, ADA. BIRN Kosovo director Jeta Xharra and Gunther Zimmer, ADA's Kosovo director, signed an agreement in Pristina this week, marking the start of the project.
The Association of Journalists in Kosovo in cooperation with United Nations Development Programme and the Kosovo Anti-Corruption Agency awarded BIRN Kosovo for the Best Television Story on Transparency and Anti-Corruption at the Anti-Corruption Journalism Awards on December 9.
Kosovo parties reprimanded for violating Kosovo law on elections during Drenas runoff mayoral elections.
Kallxo.com launches a new tool to rate the truthfulness of public statements made by high public officials. We called it Krypometer. Here's why.
BIRN Kosovo published an analysis on Thursday, July 28, of women's property rights in Kosovo in order to present a picture of the major problems around a woman's right to inherit property.
The decision taken by the Basic Court in Prishtina was the second court ruling in favor of Balkan Investigative Reporting Network in Kosovo in a legal battle against the Kosovo Prosecutorial Council for access to decisions on disciplinary cases against prosecutors.
BIRN Kosovo and Internews Kosova published their second annual report on public procurement on June 29th.
Directors, board members, partners and donors of the Balkan Investigative Reporting Network, BIRN, met in the Macedonian capital Skopje on June 18-20 for the network's latest regional Board meeting.
An award-winning investigation into a $75m road-building contract underscores the importance of cross-border collaboration.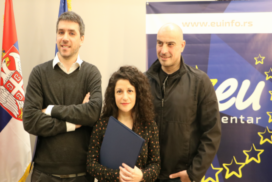 BIRN Serbia journalist Aleksandar Djordjevic win first prize in the EU awards for investigative journalism in Serbia, while the third prize went to BIRN's Ivan Angelovski, Jelena Cosic, Petrit Collaku and Kreshnik Gashi.
BIRN Kosovo court monitoring report paid particular attention to trials related to corruption but also addressed several other problems that were observed during fieldwork.


On Tuesday, April 19, the Balkan Investigative Reporting Network (BIRN) and Internews Kosova held a roundtable to launch and discuss the most recent publication by BIG DEAL, a civic oversight initiative on the Kosovo-Serbia negotiations.
Communication officers from across the BIRN Network gathered in Serbia's capital on February 23-24 for an intensive training session focused on social media.